Island Bay Childcare Team
Kia Ora and Welcome from our team at Island Bay Childcare! Alongside our Manager, Administrator and Cook, we have 14 teachers.
Meet some of our friendly Island Bay team
Aimee
Centre Manager
Early Childhood Fully Certified Teacher
Kia ora, I'm Aimee and I am the Centre Manager at Island Bay Childcare. I am very passionate about high quality education and care and believe supporting children, whānau and teachers to create a great place to play and learn. I have been teaching for twelve years, and have been managing early childhood centres for the past ten years. I have a Bachelor of Arts in Education, a Graduate Diploma in Education (ECE) and am currently studying towards my Masters in Education. I live in Newtown with my husband Leon, our five children and our chihuahua. When I'm not at work I enjoy reading, painting, going to the beach and spending time with my family.
Sam
Early Childhood Provisionally Certified Teacher
Hello,
I'm Samantha Pardo. I'm a very proud born and bred Wellingtonian, with a Chilean and Spanish background. Before joining the Island Bay Childcare team, I worked as an Administrative assistant at Red Cross – New Zealand Parliament with the Government Research and Communications Unit – Events Coordinator at Strathmore and Miramar Plunket and as a radio co-host/presenter. I too have an Administration, Acting, and Early Childhood background to go along with my qualifications. I gained my experience in Early Childhood through Porse and a Gateway programme offered to me while in college, I was 17 at the time, where I worked for six months at Kidzone Childcare Centre  in Newtown. I volunteered at Khandallah Ngaio Community Creche to gain further experience in early childhood and did a lot of babysitting for my two gorgeous nieces. I have a Bachelor of Arts degree majoring in Music Studies with Victoria University of Wellington and a Diploma in Radio Journalism and Broadcasting with Whitireia New Zealand.
I felt very fortunate when I was presented with a role as a casual reliever at Island Bay Childcare to be later promoted as a permanent teacher working in all three classrooms (the Tuis, Kiwis and Pukekos). I am absolutely enjoying my role, bonding with the different age groups. Every day at work is different and so unpredictable and that's what I enjoy the most. I love the challenge and the learning of new skills and of course having the opportunity to get to know these splendid group of kids. I've always enjoyed working with children, I love socialising with them which gives me an opportunity to learn more about the child, playing games, expressing their creativity through art and for me the privilege of being able to see them grow and their personalities blossom. I love to use my communication skills to increase our children's vocabulary with reading stories and teaching them songs; building friendships amongst their classmates, accomplish goals from walking to writing their own name and putting their own shoes and socks on or being part of the group; personally, every detail makes it so special and rewarding. Nothing is more satisfying than seeing children smile and laugh and that's what I love to see while I work, I love to be part of the process of the child's development.  I think that it is fantastic that our centre has a multicultural atmosphere giving the children the opportunity to interact with different nationalities.
In my spare time, I enjoy spending time with my family and friends, acting, dancing, photography, going to the beach, play sports, watching movies, listening to music and travel especially to my second home, Australia, to visit my two beautiful nieces.
Cristhel 
Teacher in Training
*on maternity leave
Hi/Hola!
My name is Cristhel Juarez and I'm originally from Peru. I came to New Zealand in 2011 and since then I love this country. I have been working as a nanny with two beautiful girls for a year and a half. After that I began to work in different centres around Wellington, gaining more experience working with children under 5's and learning more about New Zealand culture. I particularly enjoy supporting children's development based on their interests and how the most knowledgeable child influences in role models to younger tamariki or less knowledgeable. 'Tuaka-Tenia'.
I started relieving in Island Bay Childcare centre since the middle of 2015 and later on was invited to join Pukeko room permanently in January 2016 . Since then, I have had the opportunity to learn and train alongside Sharon and Cara. I feel very thankful to have the support of my team. As I found my main vocation which is working alongside children, I decided to study my second field in 'Early Childhood practice ' and then following will be my degree.
I'm very proud of my heritage (Inca Empire) and have found slight similarities with Maori Culture. I Iove sharing my culture with children as well as encouraging them to share a bit of their roots or culture with me. I strongly believe we could all be citizens of the world.
I'm looking forward to getting to know more tamariki whanau and sharing in their own exciting learning journeys.
In my spare time I love doing yoga, dancing, hanging around with my friends and Skyping my family.
Early Childhood Provisionally Certified Teacher
Daniela
Early Childhood Provisionally Certified Teacher
Kia ora! My name is Daniela, and I am a licensed professional teacher from the Philippines. I studied Family Life and Child Development, and I have been teaching and handling classes for children ages 3 months to 5 years old for the past seven years both in my home country and in Vietnam. My objective as an early childhood educator is to provide meaningful learning experiences for all kinds of learners, and I plan to achieve it by continuing to better myself and applying what I have learned in the classroom. Some of the things I enjoy most as a teacher are playing with the children, observing them, and planning different kinds of activities which will benefit their physical, cognitive, and social development, as well as foster creativity.
My interests are pop music, movies, arts and crafts, and nature exploration. I also like swimming and taking photographs. I am excited to know more about New Zealand, its people, and its culture. 
Shilpa
Pukeko Room Leader
Early Childhood Fully Certified Teacher
Kia Ora, Namaste (Hello) Whanau!
My name is Shilpa Salgotra and I am registered teacher in the Pukeko room. I completed my Bachelor of Honours School in English, Bachelors in Education, and Masters of English from India. I have also done a Post-graduate diploma in early childhood education from Auckland, New Zealand.
Basically hailing from the holy city Amritsar, state Punjab, country India, I came to New Zealand in 2016 with my husband. I was an English lecturer in my home country. At very young age, because of my leadership qualities I inherited from my family, I became head of the department of English (HOD) during my service span. Moving further in my life, my compassionate, helping, exploring and inquisitive nature diverted my interest to young learners.
I joined Island Bay team in the last week of May, 2017 and I am learning and exploring things as well as finding every day just as interesting as previous one. I am very keen to build up relationships with tamariki and their whanau, and always believe in a collaborative strategy for better learning outcomes of young minds. I really enjoy time knowing people and their different cultures, reading American novels, spending time with my husband and cooking for him.
 Robbie
Tui Room Leader
Early Childhood  Fully Certified Teacher
Kia ora koutou whanau, my name is Robbie Lowe and I have a Bachelor of Teaching from Te Rito Maioha Early Childhood New Zealand which I graduated from in 2015. I have a strong background in education having had worked in Primary as a team teacher in Montessori, Early childhood throughout my studies and as a reliever and the arts having tutored at Inverlochy Art School. I am passionate about supporting our tamariki to reach their full potential and encouraging the love of learning through exploration.
 I am a happy fun loving person and building meaningful relationships is very important to me. I enjoy all sports, the arts, travel and good food and love bringing my knowledge of these into my daily practice. I am continuously building my knowledge around Te Ao Māori and Te Reo Māori which I really enjoy sharing and learning alongside the centre community.
Our Centre Cook has been preparing delicious meals for our children since the centre opened over seven years ago. She enjoys cooking and has several years experience working & preparing healthy nutritious meals for children. She has completed training in Food Safety Hygiene and H.E.A.T: Healthy Eating Action and Training.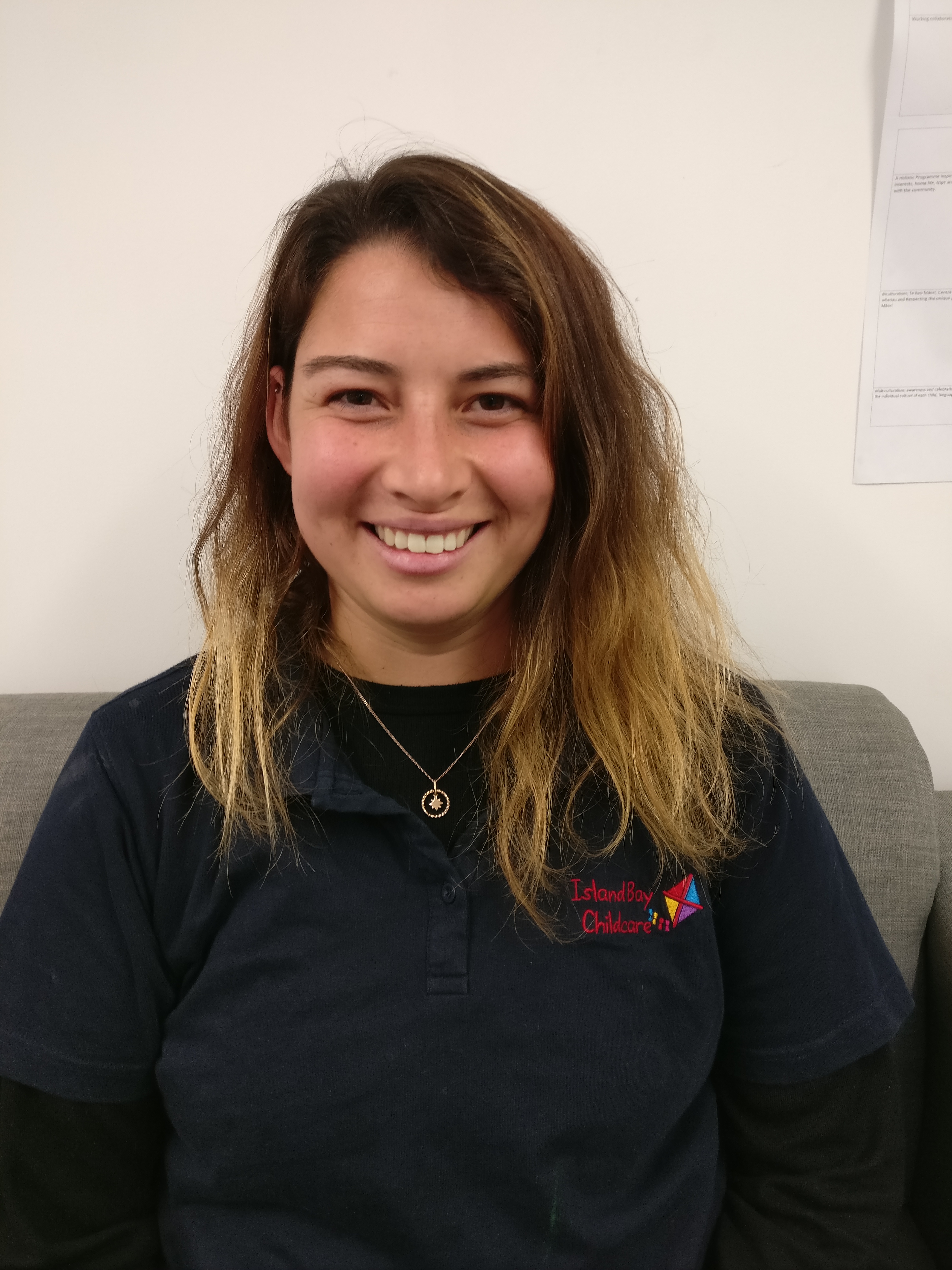 Ellen
Kiwi Room Leader
Early Childhood Provisionally Certified Teacher
Kia ora koutou,

 

I have recently started as the part time lunch cover role. This means I have the privilege of getting to know and working with all of the tamariki at Island Bay Childcare. I love their energy, the positive vibes and the children's curiosity for all things. 

 

Last year I graduated with a Bachelor of Teaching (ECE). During my studies, I developed a passion for the 'environment as a third teacher' concept. Being a part of all three rooms has given me the opportunity to continue designing aesthetically pleasing spaces to challenge the children. This year, I continue to further my own learning by attending night classes to learn te reo Māori. I look forward to be able to share this with you all.

 

Before I started teaching here, I managed a local kennels and cattery. Yet another place full with love and attention. Never a dull day…hairy, but never dull. 

 

At home, I am raising two inquisitive children of my own. They are both great guinea pigs for trying out new resources and activities to bring in to the classroom 😉 My whanau love the outdoors, playing sport and getting out and about in the city. 

 

Ma te wā

Ellen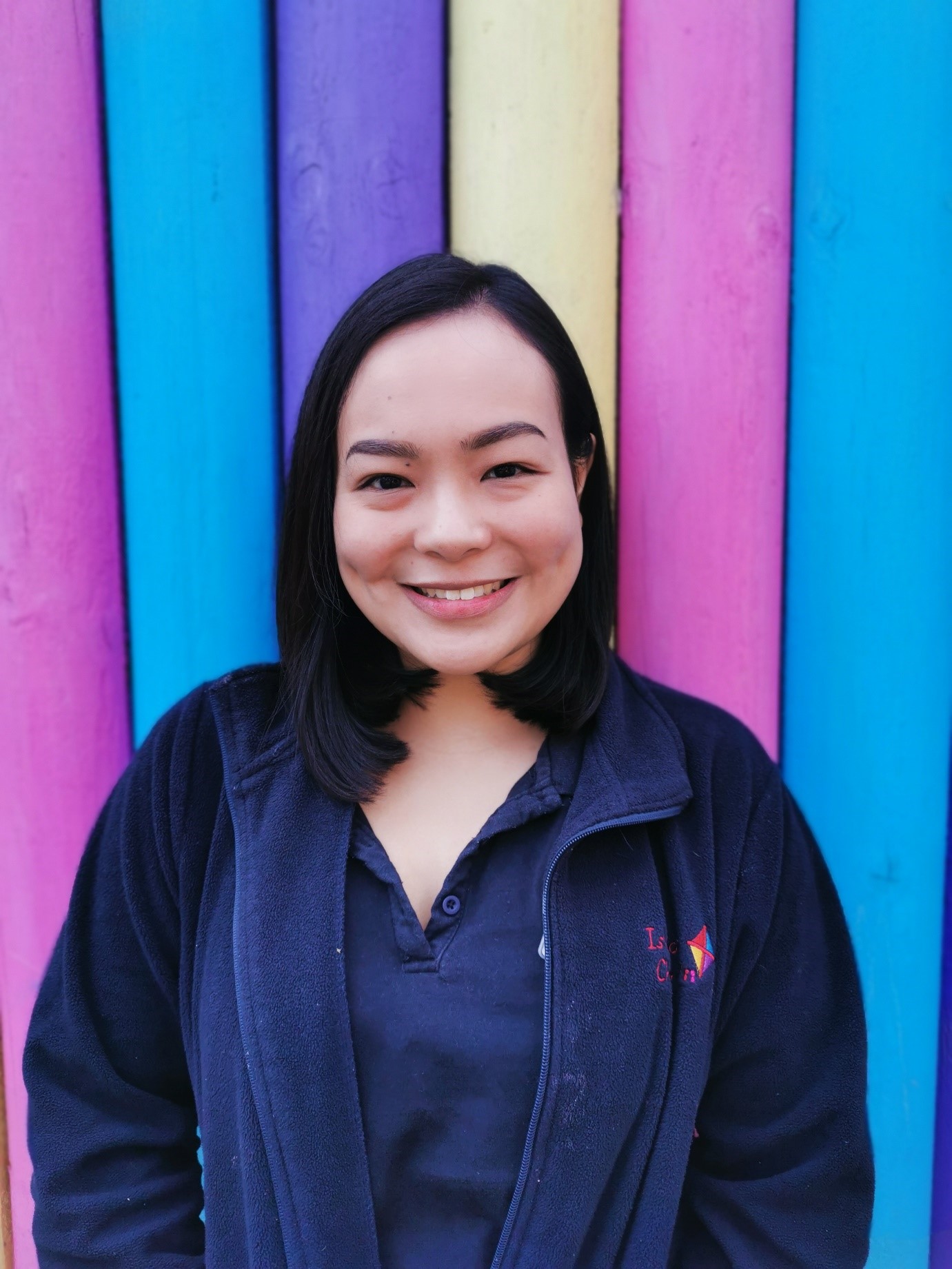 Pia
Early Childhood Provisionally Certified Teacher
 I'm Pia and I am from Manila, Philippines. I completed my degree in Early Childhood Education in 2011 and has been working with children since then. Before I decided to work in New Zealand, I was working in a progressive preschool for 8 years and was part of the Toddler team or the 2-year-olds.
 As a teacher, I enjoy watching my students discover their love for learning while they explore and be independent of their surroundings. It is also a fulfilling experience to see them learn how to be kind and loving to one another.
 On my spare time, I enjoy travelling and baking.
I am looking forward to being a part of the Island Bay team and I am excited to meet all of you!
 Alhene
Early Childhood Provisionally Certified Teacher
Kia ora! Kumusta?
My name is Alhene and I'm originally from Manila, Philippines. I graduated with Teaching in the Early Grades degree from the University of the Philippines. I have been working with kids for 4 years and handled different age groups from five years old and below and love every moment of it. I just recently move here in New Zealand and very excited to be in the Tui room!
 Teaching with younger students has always been my passion as I strongly believe that it is every child's right to have a quality education. Being an educator means understanding that every child is different and helping them to discover the love for learning. Having said that, I value the opportunity to guide every student, with the support of their families, in reaching their maximum potentials to be the best person that they can be.
Aside from teaching, I also share the same passion in dancing and so grateful to be part of an esteemed group in the Philippines that dances jazz and Philippine folk dances. I'm excited to share my culture as well as to learn more about the Maori culture.
 I can't wait to make new adventures with all of you!
Sian
Administrator
Early Childhood  Fully Certified Teacher
Kia ora,

I moved from Christchurch to Wellington in 2012 with my husband Philip who works at Weta Digital, and began my training in a Bachelor of Education (Teaching) Early Childhood through Victoria University.

Throughout this study I found and followed my passion for the care of under two's and successfully graduated in 2014.

 

I love to travel, scrapbook, and spend time with friends and I'm really looking forward to continuing to meet and get to know all of the children and whanau.
Christina
Director
Early Childhood  Fully Certified Teacher
Cead Mile Failte, My name is Christina and I am the Centre Director at Wellington Childcare. I have been working with the Centre since 2012 and love each and every day.
Working with children brings such a variety and excitement to your normal day and I couldn't imagine working anywhere else! I graduated with an Honours Degree in Early Childhood Education in Ireland in 2010 and have worked in a variety of childcare centres since then, including bilingual kindergartens, crèches, nurseries and Montessori preschools. I am currently studying for my Doctorate of Education with Victoria University.
I'm originally from Ireland and still haven't lost my accent! My Irish culture is very important to me and I like to share it with the children and their families in lots of different learning experiences.  Building friendships and relationships with friends and families comes very naturally to children and their ability to learn about different cultures and values is a wonderful advantage of these relationships. As a teacher, I strive to provide these opportunities for children where they can continuously strive to learn about different countries and nationalities and their unique attributes. I am also really passionate about risky play and seeking new ways to incorporate into children's everyday routines and rituals.